How to Update Date of Birth Online in Aadhaar India 2023-आधार कार्ड में जन्मतिथि अपडेट कैसे करें
"How to Update Date of Birth Online in Aadhaar" you can update the date of birth in your Aadhaar by providing a valid Date of Birth (DoB) proof document. Please refer here for list of valid of date of birth document. Please see that your name in the DoB proof document matches with that of Aadhaar.
Note: You can update the declared/approximate Date of Birth (DoB) only once either through online portal, mobile app or visiting nearest Aadhaar Seva Kendra.
Unique Identification Authority of India (UIDAI)
Requirement to Update Date of Birth Online in Aadhaar:
a)  Registered Mobile Number with Aadhaar.
b)  You will require 12 Digit Aadhar Number. or
c)  16 Digit Aadhaar Virtual Id (VID).
Required Document as Proof of Date of Birth:
Date of Birth correction requires a scanned copy of the original supporting document. Please make sure that the supporting document is in your name and valid. If you are providing a certificate in UIDAI standard format, please check for common mistakes like Issue date, Crossed sign, Stamp across Photo, and No Overwriting to avoid rejection of the request.
Proof Of Date of Birth, Copy of any of the following documents Containing Name and DOB mentioned in the application:-
Birth Certificate

Passport

PAN Card/e-PAN

Service photo identity card issued by Central Govt./State Govt./UT Govt./PSU/Banks

Photo ID card having Date of Birth, issued by a Recognized Educational Institution

Marksheet issued by any recognized Government Board or University
School Leaving Certificate (SLC)/ School Transfer Certificate (TC)….

….

Know More
a)  Online Aadhaar Update Services is a paid service.
b) You have to pay ₹ 50 (Rupees fifty only) towards the online update fee. You can make the payment through credit/debit card or net banking. This amount is non-refundable. In case of payment failure, you can retry the payment.
Here is how you can Update Date of Birth Online in Aadhaar Step-by-step guide:
Step 1:  "Update Date of Birth Online in Aadhaar" request can be raised by logging into myAadhaar Portal or By Clicking Here
Step 2: Log in with your Aadhaar number and OTP in myAadhaar Portal.
Step 3: Select "Online Update Services" in Dashboard.
Step 4: Select the type of mode Online Aadhaar Update.

Step 5: Now read the instruction and click on "Proceed to Update Aadhaar". 
Step 6: Select the Date of Birth Option and click on "Proceed to Update Aadhaar".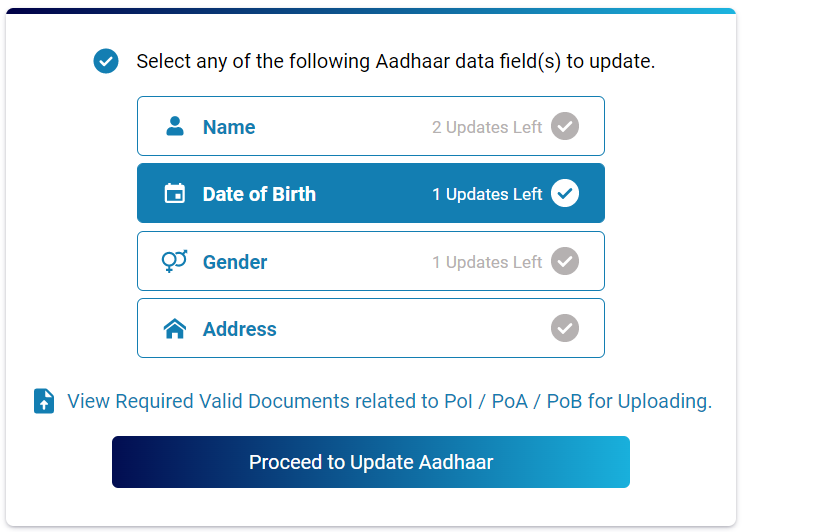 Step 7: Enter the Date of Birth details to be updated and upload the supporting document and click on Next.
Step 8: Review the data entered for correctness and completeness and check on the Allow and consent box.

Step 9: Click on make payment and select payment mode.
Step 10: The page will redirect you to a payment gateway where you can make a payment of Rs. 50/- (inclusive of GST & speed post charges).
Step 11: After payment, your request has been submitted and You will obtain a Service Request Number (SRN) as a reference. Preserve this number to track the update request or for any future communication with UIDAI helpdesk. 
Update Date of Birth Online                 :    Click Here
Update Address Online                      :    Click Here
Visit Official website                     :    Click Here